Time-line
Prologue
Around the late 1980s, some people who were interested in botanical illustration(BI) made a proposal to start a nationwide organization for this uncommon art in those days, for the purpose of popularizing it as well as exchanging information and opinions related to BI. After many preparatory meetings for starting a desirable association, the philosophy and basic outline were finalized as below: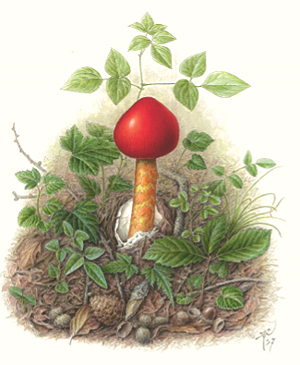 ©Kobayashi, Hidenari
The association does not give any authority to membership.
The Association is opened for everybody who has an interest in botanical illustration. Every member may act on an equal footing in the Association.
Local branch divisions should have moderate horizontal ties within the nation-wide Association and should aim for interacting with each other.
To the effect described above, members are recruited from all over the country.
Thus, the Japanese Association of Botanical Illustration was successfully established in 1991. Since then, the Association has performed various works in a step-by-step fashion as follows: General Annual Meetings, Training Workshops, Exhibitions of Member's Works, Publishing of Botanical Illustrated Books, Production of BI-Postal Card.
The next table presents the main works and events in the past. Plants might empower the Association to achieve these works.
1991

The inaugural meeting of the Japanese Association of Botanical Illustration(JABI) was held in the main auditorium of the National Museum of Nature and Science in May 3th. The membership at the time came to 253. Since the budget for JABI was funded only by the membership dues, it was a challenge on how to inexpensively operate the JABI.

In June, Candidates for the name of News letter as well as logo of JABI were solicited in the first issue of the letter. They were decided by the cast ballots of the members. The News Letter is now published quarterly. In July the 1st training workshop was held near Mount Fuji. Since then the workshops have been organized annually throughout the nation. This workshops may offer a good opportunity to foster relationship with members.

1992

In August, the Exhibition of botanical Illustrations by 22 JABI members was held at Flower Plaza in Meijo Park, Nagoya.

In Just the 2nd year, the first edition of The Bulletin of JABI "Kusakaya" was issued in December.

1993 - 1995

© Yoneda, Miyoko

The training work shops were held in Shiga, Mt Aso, and Hokkaido.

Assigning tasks of the Secretariat of JABI office were also settled during those days.

1996

1st Exhibition Poster

In January, the First series of The Picture cards collection of botanical illustration was published.

In September, the First Exhibition of JABI was held. A total number of 60 works were exhibited in Kawamura Memorial Museum of Art in Sakura City, Chiba Prefecture. Then we drew up a first list of exhibits.

1997

Exhibition Catalogue

The Second Exhibition of JABI entitled "Botanical Eyes" was held in Ube, Yamaguchi in October.

1998

© Sedaka, Ikuo

In June, the 3rd Exhibition of JABI was held at Ofuna Botanic Garden, Flower Center Kanagawa. 63 members contributed their works to the Exhibition.

The 3rd series of the Picture cards collection of botanical illustration "Orchid" was published in November.

1999

The 4th Exhibition of JABI was held as a traveling exhibition at Shoundo Gallery, Yamaguchi-Ube from September 1st to October 30th, and followed at The Gallery of Kawamura Memorial Museum, Sakura, Chiba Prefecture from November 23rd to 28th.

2000

© Takahashi, Kazuto

To commemorate the 10th anniversary of JABI, Illustrative work for Endangered Plants of Japan was planned.

The first series of the Picture cards collection of botanical illustration "Endangered Plants of Japan" was published in July.

The 5th Traveling Exhibition of JABI was divided into the general category and the planning category. A total number of 90 works were exhibited in four locations including Hokkaido.

2001

© Inujima, Yuko

The second series of the Picture cards collection of botanical illustration "Endangered Plants of Japan, Wetland plants" was published in July.

The 6th Traveling Exhibition of JABI was held in four locations in Japan from 2001 through 2002.

2002

The 3rd and 4th series of the Picture cards collection of botanical illustration "Endagered Plants of Japan" were published in October.

The Traveling Exhibition "Endangered Plants of Japan" was held in three locations in Japan from 2002 through 2003.

2003

The 8th Traveling Exhibition of JABI was held in Ibaraki and Hyogo.

2004

"Endangered Plants of Japan: a Florilegium" was published by Aboc-sha & Co., Ltd..
The Traveling Exhibition for the original illustrations in the Florilegium was held at Jindai Botanical Gardens(Tokyo), Shinjuku Gyoen National Garden(Tokyo), Shoundo Gallery (Yamaguchi), Flower Plaza in Meijo Park (Aichi), and Kochi Prefectural Makino Garden (Kochi).

2005

The Traveling Exhibition "Endangered Plants of Japan" was held at National Arboretum, Washington, DC. and Chicago Botanic Garden, Chicago, Ill. in USA.
The first and second series of the Picture cards collection of botanical illustration "Naturalized Plants of Japan" were published.

2006

© Akiba, Fukumi

The 9th Traveling Exhibition of JABI was held at Gallery Kubota, Tokyo, in January and Flower Plaza in Meijo Park, Aichi, in June.

2007

The 10th Traveling Exhibition of JABI was held at Gallery Kubota, Tokyo, in February, Yamaguchi Museum and Shoundo Gallery, Yamaguchi, in March.

2008

Exhibition Poster

The 11th Traveling Exhibition of JABI was held at Jindai Botanical Gardens, Tokyo, in January-February, Ibaraki Nature Museum, Ibaraki, in February, Flower Plaza in Meijo Park, Aichi, in June and Sapporo Citizens Gallery, Hokkaido, in July.
The Exhibition "Botanical Illustration of Endangered Plants of Ogasawara" was held at Ogasawara Island Nature Information Center , Chichijima, Tokyo, in August-September.
The Exhibition "Botanical Illustration of Naturalized Plants of Japan" was held at Higashiyama Botanical Gardens, Aichi, from December 2008 to January 2009.

2009

Book Cover

"Drawings of Alien Plants of Japan : A collection" was published by Aboc-sha Inc..

2009-2010

12th Exhibition card

The 12th Traveling Exhibition of JABI was held at Gallery Miura, Hyogo, in October, Ube Tokiwa Museum, Yamaguchi, in November-December, and Jindai Botanical Gardens, Tokyo, in January 2010.

The Traveling Exhibition "Botanical Illustration of Naturalized Plants of Japan" was held at Kochi Prefectural Makino Garden, Kochi, in October- November 2009 and Parthenon Tama, Tokyo, in February-March 2010.

Some members of the Botanical Artist Society of Korea visited our exhibition in Tokyo. A cultural exchange between the two botanical societies started.

2011

13th Exhibition card

The 13th Traveling Exhibition of JABI was held at Gallery Kubota, Tokyo, in February and Kyoto Botanical Gardens, Kyoto, in November.

2012

14th Exhibition card

The Exhibition "The History of JABI" was held at Jindai Botanical Gardens, Tokyo, in January.

The Exhibition for the 20th anniversary of JABI (the 14th Traveling Exhibition) was held at Ginza Art Hall, Tokyo, in March and Sapporo Citizens Gallery, Hokkaido, in July.

2013

15th Exhibition card

The 15th Exhibition of JABI was held at Nishinomiya Kitaguchi Gallery, Hyogo, in March.

The Exhibition "Botanical Illustrations of Japanese Endemic Plants" was held at Ibaraki Nature Museum, Ibaraki, in February.

The Traveling Exhibition "Japanese Endemic Plants in Botanical Illustrations" was held at Yamaguchi Museum, Yamaguchi, in April-May and Hiroshima Botanical Garden, Hiroshima, in May-June.

At the invitation of the Botanical Artist Society of Korea, our 10 works were exhibited in their 6th annual exhibition at Kyung-In Museum, Seoul, in October.

Eight members visited Seoul and participated in the opening reception.

2014

16th Exhibition card

The Exhibition of JABI was held at Jindai Botanical Gardens, Tokyo, in January.

The 16th Exhibition of JABI was held at Nishinomiya Kitaguchi Gallery, Hyogo, in March.

The Exhibition "Rare Plants named by Dr. Makino" was held at Makino Memorial Garden & Museum, Tokyo, in November-December.

The Exhibition of JABI was held at Higashiyama Botanical Gardens, Aichi, in December.

2015

17th Exhibition card

The 17th Exhibition of JABI was held at Gallery Kubota, Tokyo, in January-February. In this exhibition 14 artworks by the members of the Botanical Artists Society of Korea were on display.

The 18th Exhibition of JABI was held at Nishinomiya Kitaguchi Gallery, Hyogo, in December.

2016

Exhibition card

The Exhibition of JABI was held at Jindai Botanical Gardens, Tokyo, in January.

Our 10 works were exhibited in the annual exhibition of the Botanical Artist Society of Korea (Seoul, Korea, in October) .

The Exhibition of JABI was held at the gallery of the College of Green and Water for Citizens, Hibiya Park, Tokyo, in November.
Around 50 works were on display, including 18 original illustrations for the Tokyo Metropolitan Park Association 2017 calendar.

The Exhibition of JABI was held at Higashiyama Botanical Gardens, Aichi, in November-December.

2017

19th Exhibition card

The 19th Exhibition of JABI was held at Gallery Kubota, Tokyo, in February.

The Exhibition of JABI was held at Jindai Botanical Gardens, Tokyo, in November-December.

2018

20th Exhibition card

The 20th Exhibition of JABI was held at Nishinomiya Kitaguchi Gallery, Hyogo, in February.

The Exhibition of JABI was held at Higashiyama Botanical Gardens, Aichi, in August-September.

The Exhibition "Japanese Endemic Plants in Botanical llustrations"was held at the gallery of College of Green and Water for Citizens,Hibiya Park, Tokyo in November.

2019

The 21th Exhibition of JABI was held at Gallery Kubota, Tokyo, in February.

The Traveling Exhibition of JABI was held at FENICE SACAY,Osaka, in October.

The Exhibition of JABI was held at Jindai Botanical Gardens, Tokyo, in November-December.

2020

The Exhibition "Beauty of nature - See in botanical illustration Flowers that color Japan - " was held at Yamaguchi Museum, Yamaguchi, in May-July

"Endemic Plants of Japan:A Florilegium" was published by WOODS PRESS.Inc.

2021

The 22th Exhibition of JABI was held at Nishinomiya Kitaguchi Gallery, Hyogo, in August.

2022

「The Exhibition of illustrated Manyo-plants」 

March 26th ~ May 18th Held at Heijo Palace Historical Park Heijo Palace Izanai-kan, Nara City, Nara Prefecture

「Traveling exhibition」

July 16th~August 28th Alps Azumino Natinonal Coverment Park (Azumino, Nagano)

September 9th~October 30th: Showa Kinen Park (Tachikawa City, Tokyo)

November 12th~January 15th, 2023 Musashi-Kyuryo National Government Park(Namerikawa, Hiki-gun, Saitama)